Haunted Hydro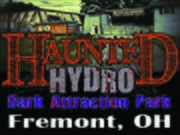 Step into Crazy Bob's: "House of Crazies" where "The Asylum" and "The Condemned Carnival" awaits you. The "13 Ghosts" have taken over and Changed and Manipulated the Confines of the Hydro.
Bringing to life their old home. The Asylum. Navigate the twisting corridors and pass thru the exam rooms.

Hear the screams coming from the padded cells and steer clear of surgery. Will you find the "13 Ghosts" before they find you? You may end up not just visiting our Asylum but becoming a part of it…!

Schools have "Recess"... Prisons have "The Yard"... Our "Asylum" has: "The Condemned Carnival"...

Once cleared by the Psychiatrist our patients are granted free time in "The Condemned Carnival"… to unwind and Express themselves after a day of tests, procedures and confinement. Most like to escape their reality by becoming someone else .. something else. So step right up! Everybody's a winner here at the Condemned Carnival… just play one of our games of Misfortune. Check out our horror house and sideshow and watch out for those mischievous clowns! Hurry, Hurry, Hurry! Right this way...

Visit the new set for a NEW Horror Reality Game Show! Vanna Fright presents W.O.O.D.S… Warning Only Outcome is Danger and Screams…! Vanna has collected some of the most Vile, Dangerous and Disgusting Species and contains them in the WOODS Compound. Contestants enter with the only way to win is too SURVIVE... SCREAMING is encouraged as it increases the creature's intensity…
SO LET'S GET SCREAMING!
Latest Reviews
There are no reviews for this listing yet!