Escape Canton
COVID-19 alert: please check the attraction's website and/or social media before going to confirm that they are open!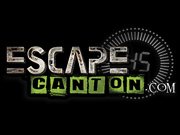 FIND the clues, SOLVE the puzzles, ESCAPE before time runs out! Four rooms to choose from: The Heist, Outbreak, Safe House Escape, & Jailhouse Breakout.

The Heist (60 Minute Adventure)
You and your team find yourselves as accomplices to a jewel heist. What seems like your average robbery quickly takes a turn for the worst when you learn your team cant trust their new business partner. Escape the vault before you meet the same fate as his last partner in crime.

The Boiler Room (60 Minute Adventure)
While answering a help wanted posting at the local bio-chemical research lab, your team discovers that the only openings available at this company are on the testing table. You suddenly decide that locking yourselves in the boiler room to escape the research team wasn't the best idea…

Zombie Safe House (30 Minute Adventure)
You and your friends take safety inside a mobile home to avoid becoming a human buffet for a hoard of zombies. But this safe house is a little to safe. Crack the codes to call for your extraction before the zombies arrive on your doorstep.

Jail Escape (30 Minute Adventure)
While traveling through a small town you get yourselves tossed in the slammer by a small town Sherriff. Break out of this jailhouse before you become part of this towns dark little secret.

Serial Killer (30 Minute Adventure)

Escape The Cursed Tomb (30 Minute Adventure)


Latest Reviews
There are no reviews for this listing yet!