Screamland Farms & Crumland Farms Fall Fun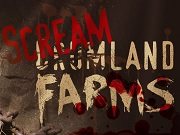 Screamland Farms is bringing you five exhilarating experiences on Fridays and Saturdays this Halloween season! Enter the Corrupted Corn as a new level of terror arrives. Taste, smell, sight, sound, touch...which one will you lose? CornSlender will awaken your deepest nightmares. Stay together and stay on the path, lest you be tormented for eternity!

Board the Hayride of Horrors and journey through a nightmarish world deep within the dark woods. Tremble as the unspeakable becomes reality. Hope that it's only a dream when you meet the Woodsman. Pray you make it out alive and sane. Be warned… You are not safe!

If your survive the woods you can enter the Barn of Bedlam. Make no mistake...this barn will infect your very souls with the most sadistic of experiences. Take a trip into the bayou where Voodoo reigns supreme over the weak, depraved, dead, and psychotic alike. Remain on the path of the righteous...and you may just make it back!

Had enough of being chased by monsters? Then fight back with a round of Zombie Paintball! An infested wasteland of Zombies awaits you. Load up and roll out on a tractor-pulled double-wagon zombie kill'n machine. Prepare for the Zombie Apocalypse with some target practice as the flesh eating zombies attack!

Before you leave enter the Woodshed, but wait a moment...You Are Trapped! You have three minutes and one goal: escape before time runs out! Screamland brings you an interactive, intense real-life escape experience. Work together to race the clock and solve the puzzle using logic, instinct and critical thinking to uncover the hidden mysteries to escape with your life!

Latest Reviews
There are no reviews for this listing yet!