Breakout Nashville Escape Games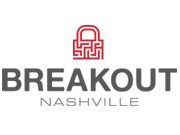 Our goal is to challenge the minds of all ages and strengthen relationships through teamwork. Most importantly, we want it to be fun for everyone! Taking on the role of a kidnapped hostage or investigation agents, you and your teammates are put into different scenarios and must work together to search for clues, use different elements in the room to solve puzzles and navigate yourself out of a locked room while beating the clock! Choose from multiple themed settings, all with their own unique challenges.

The Kidnapping
In this escape room, you and your friends wake up handcuffed in a strange room and realize you have been kidnapped. Luckily you discover some clues hidden throughout the room by a previous victim. Can your team work together to follow the chain of clues and escape the room before the Kidnapper returns?

The Museum Heist
It's the eve of a prestigious art gallery opening, and the museum owner has stolen a rare collection of artwork - the centerpieces of the exhibit. Can your team recover the stolen masterpieces, escape the room and make it to the gallery before it opens in one hour?

Casino Royale
An agent of MI6 has gone missing while investigating organized crime at the famous Casino Royale. In this escape game, your team has been sent to find the missing agent and track down the syndicate responsible. Upon entering the Casino you become trapped and have only an hour to escape with your lives. Can you follow the clues left by your agent and escape in time?

Island Escape
While vacationing on a tropical island, you awake to the sounds of a dormant volcano rumbling to life. The only people still on the island, you and your team are left to your own devices and must work together to discover the keys to safety before the lava reaches shore. Bring your inner explorer out to play for this adrenaline-packed adventure.

Latest Reviews
There are no reviews for this listing yet!