Suite Escape Amarillo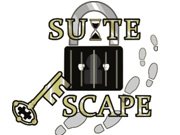 We're Amarillo's first Live Escape Room! Looking for something different to do in town? Try an escape room! This is the place to escape the mundane! We want to be your key to fun! We are the newest unique entertainment in Amarillo.

The Recruits:
So you think you have what it takes to be a spy? Come and test your skills. See if you can pass our entrance exam. "Trust us...we're with the government." Escape our test suite in sixty minutes and we'll decide if you've got what it takes. Click The Recruits picture for more information.

Art Critic:
If you've got an eye for art, then you won't mind being locked up in this suite for an hour. Gaze upon the various works of art and find the hidden clues left by a mischievous vandal. The curator is calling upon anyone willing to help save their art exhibit. The vandal has given a one hour time limit that starts once the door is locked behind the rescue team to save the art or it will be completely destroyed. Click Art Critic picture for more information.

First Assignment:
Dr. Dravarian of the CDC has gone missing! It's up to you to figure out what he was working on, if he went rogue, went into hiding, was kidnapped, or worse! You're off to a secret location on your first clandestine mission for the Agency. Click First Assignment picture for more information

The Council: (Coming Soon)
The threat of war is near between the Dwarves and the Elves. Humans are stepping in to take over the peace talks with a council of great men and women in the kingdom. What is the cause of the strife? How will you keep the planned attack from occurring? You only have one hour to determine the problem and escape the council suite to reach the Dwarf King and Elven Elders to prevent a senseless war.

Bomb Squad: (Coming Soon)
A Special Tournament Styled Suite!
You and your team suit up to take on as many BOMBS as you can...Lots of BOMBS. How many? As many as your team can do in one hour. But that's just part of the tournament! Maybe your team would prefer to set the fastest time a BOMB is disarmed. It's up to your team to choose: Go for as many BOMBS as you can or try to set the fastest disarm time. Both? Prizes to be awarded in different categories! May the best Bomb Squad win! More info to come so stay tuned!
Latest Reviews
There are no reviews for this listing yet!