The Escape Game Nashville
COVID-19 alert: please check the attraction's website and/or social media before going to confirm that they are open!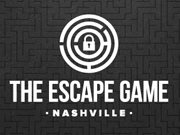 The Escape Game Nashville is a fun, new, immersive entertainment concept. It is a real-life escape game designed for small groups of people (from 6 to 12 individuals, depending on the game). Your goal is simple: work together as a team, testing your wits and skills, to escape from a locked room. While the goal is simple, the game is challenging. Getting through the locked door will require finding clues, solving puzzles, and working together. Book today and see if you can keep cool under pressure and escape from the locked room in under 60 minutes.

The Heist Escape Room
Stealing is wrong. Most of the time. Get ready for an exciting challenge of beating thieves at their own game. If you succeed in your mission you will become national heroes! If you fail, you will be treated as a common criminal by the authorities.
Maximum Capacity - 2-7 or 8 Players
Available in both locations.

Nashville Escape Room
You and your team are an up-and-coming band who want to make it big in the music industry. Recently, you heard a rumor that world renowned producer Rick Teggen hid a contract in his studio before he retired. Legend has it that if you're the band that finds the contract, he will come back to produce one last record, guaranteed to make you famous. You're a guest in the studio, so you only have 60 minutes...Good Luck!
Maximum Capacity - 2-6 or 7 Players
Available in both locations.

Classified Escape Room
Your team, an international anti-terrorist organization, has been assigned to a critical covert mission. Your objective? Stop a major international terrorist threat by gathering details on the impending attack. In this thrilling high-stakes mission, it's up to you to get inside the head of the masterminds and infiltrate their evil plan.
Maximum Capacity - 2-6 Players
Available only at East Iris Drive Location.

Underground Playground Escape Room
Find surprises in our underground Kindergarten playground! This game is more than just ABC's and 1-2-3's, and accommodates up to 12 players. So get your favorite sidekicks together and test your wits in a room that is anything but Elementary. Fail to escape and you'll be repeating Kindergarten!
Maximum Capacity - 4-12 Players.
Available only at East Iris Drive Location.

Gold Rush
Northern California. No one was captivated more than Clyde Hamilton, a greedy gold prospector who loved to gamble. Clyde made too many bets with the wrong crowd and now he's missing. You've been tipped off to where he stashed his gold...But so has the mob. Finders keepers.
Maximum Capacity - 2-7 Players
Available only at 3rd Avenue North Location.

Prison Break
The year is 1955. You've been wrongfully accused of a crime, and sentenced to life in prison without the possibility of parole. Your new "home" is a cell that once belonged to an inmate who disappeared without a trace...or did he? Some claim he escaped. Others swear he was murdered by the infamously cruel warden. But no one actually knows...can you escape before you suffer the same fate?
Maximum Capacity - 2-8 Players
Available only at 3rd Avenue North Location.

Second Location in Nashville
162 3rd Avenue North,
Nashville, TN 37201
615-647-8229

The Heist - The Escape Game
Latest Reviews
There are no reviews for this listing yet!