Nightmare at 3008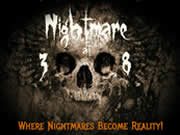 Welcome to the House of Psychos. So glad that you decided to get the help you need. Wait right here and someone will show you to your new r...….., Please don't believe a word you hear, This Is Dr. Shoeburt and the patients have taken...…….. Right this way you will be on hall 1 and you sir will be on hall 2, hope you have a great...……. Please help us! The Crazies are lose and have us held captive, please someone help us, call the warden...….
?This is where Nightmares become REALITY!!!




Latest Reviews
There are no reviews for this listing yet!