Basement of the Dead Haunted House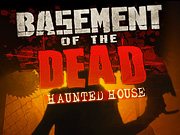 Basement of the Dead:

In the late 1920's, Walker Laundry opened at 42 West New York St. and became Aurora's largest laundry Company. Around 1945 Imus Kilya was working there as maintenance engineer. His son Al came to work as his assistant in 1960.

Heat for the building and steam for the presses was supplied by a coal fired boiler installed when the building was built. Al and Imus continually complained that it needed to be replaced, but management wouldn't spend the money. In 1964 the boiler exploded maiming and scalding Al and Imus. They never returned to work and rumor was they had vowed to get even.

Under the streets and building were sewer lines and tunnels well known to Al and Imus. A year or so after the explosion people from the laundry started to disappear and body parts were found in the river near the drainage pipes. Al and Imus were suspected but never found. The laundry eventually closed and the basement was never used again. Businesses have come and gone but nobody stays. Basement Of The Dead is proof that Al & Imus still exist and have made this basement their home.. The mutilation and horror you will witness is so shocking, you'll wish you never entered.

Shattered, the smashing clown, lost all sense of being human the day his famous sledgehammer trick malfunctioned, killing his wife and partner. He knew it had to have been the roadies fault for setting up the trick incorrectly or the pressure he felt from the crowd to do one more stupid trick! The hate and pain devoured his soul. Evil was all that remained. He went through the crowd like a hammer goes through a skull. When his rampage was over, 30 audience members and 15 workers found their final resting places in a puddle of their own blood. That was the last night Shattered the smashing clown was ever seen.

Rumor has it that the clown took refuge down in the darkest depths of an old building at 42 W. New York St. The locals call the building the Basement of the Dead. The story goes on to say that Shattered spent his time in exile praying to demons and learning to spread his evil across dimensions. His vivid nightmares are now becoming part of his resurrected circus. The rumor also says that all the souls he took that night followed him down there. They are keeping the smashing clown company.
Now, the circus tent is reopened! Can you hear the pipe organ in the distance? Shattered the smashing clown is longing to make you scream again. The show must go on! Come see SHATTERED Circus, The World's Best 3D Nightmare."

SO COME WALK THE BASEMENT OF AL & IMUS KILYA. IF YOU'VE GOT THE GUTS!
Basement of the Dead - America's Scariest Haunted House - 2017
Latest Reviews
There are no reviews for this listing yet!