Mastermind Escape Games
COVID-19 alert: please check the attraction's website and/or social media before going to confirm that they are open!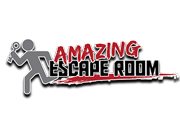 Escape Rooms are the rage around the world and Mastermind Escape Games brings a higher quality experience to people of all ages. We are a national, retail entertainment chain with locations in New Jersey, Philadelphia, Atlanta, Los Angeles and Chicago; an exciting new alternative to simply playing video games or going to the movies.

The Sorcerer's Secret
You arrive at your uncle's magic shop to investigate his mysterious disappearance. It's up to you to foil an evil Sorcerer's plot against him and escape his magic lair before you suffer the same curse that befell your uncle.

Lost In Time
Your eccentric, scientist grandfather has invited you over to his house to unveil his latest invention, a garage he's turned into an actual working time machine! Unfortunately, it seems someone accidentally hit the start button, sending you adrift through time and space. It's up to you and your friends to travel through the past and the future in an effort to get to present day before the machine runs out of power, trapping you in another time forever.

Escape The Air Raid
You are a squad of soldiers at a military outpost and you've just intercepted a message that an enemy bomber is heading your way. It's up to you to activate the sirens to warn the nearby city and get to the bomb shelter before the air raid strikes.

Escape the Zombie Virus
You are on a tour of the Center for Disease Control, (in Atlanta), when a deadly zombie virus breaks out! Work together with the others in your group to discover a cure before the Zombie apocalypse takes place.

The Spy Who Got Away
The devious Dr. Diabolical has chained you and your team of super spies to a trap door hovering over a pit of molten lava in his torture chamber. It's up to you to escape the evil trap and foil his plans to hold the Earth hostage with his giant laser cannon located on the Moon.

Superhero Training Facility
You and your friends are facing the final exam at the Superhero Training Academy: a three-part obstacle course testing your Strength, Intelligence, and Skill. Choose your superpower, and navigate the trials in under an hour to prove yourself and become full-fledged superheroes.

Second Location
5825 Glenridge Drive,
Building 4, Suite 200
Atlanta, GA 30328
Latest Reviews
There are no reviews for this listing yet!