Wisconsin Fear Grounds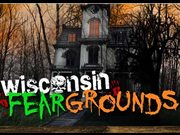 More than 55,000 square feet of Terror awaits you at the Wisconsin Fear Grounds!
Located in Waukesha Wisconsin

The 3 totally separate Haunted Houses make up the Wisconsin Fear Grounds! Others want you to think they are the newest, scariest or largest, (in their dreams). The Wisconsin Fear Grounds proves each night why we are the best and we strive to bring your Nightmares to life.

MORGAN MANOR
First enter Morgan Manor the corner stone of our trilogy of TERROR. Expect the unexpected as Morgana and her 8 sisters feed on your fear in this den of Horror.

UNSTABLE
What pain was once limited to the indoors has now spread. The evil has consumed the rest of the grounds, as Morgana and her minions have found refuge in the stables of this once elegant estate to unleash even more horror, "Unstable". The outdoors are no longer refuge from the terror of her home as you try to escape, Unstable is waiting to greet you.

UNKNOWN
From the moment you place one foot into Unknown, the newest Haunted House at the Wisconsin Fear Grounds, it does not take long for you to realize that this is a different level of FEAR. What are your greatest fears? Unknown will touch them all…and so much more. The chill running down your spine is from the evil that lurks behind every corner in this monument to Terror… A subtle reminder of Unknown will follow you home as another sleepless night awaits you…lying panting and sweating in your bed, you still cannot shed the horrific sights you were subject to in Unknown… The Terror isn't just in your head…Something from Unknown followed you home and now lives under your bed.

HEX
The hour-long adventure, HEX: Once you've stepped into the HEX, it's not a matter of WHEN you'll get out but rather IF you'll escape at all. As soon as you enter HEX, you'll feel the evil wandering in search of new souls to devour. Your presence is an intrusion into this coven protected by the evil spirits but specifically by the spell placed upon it. Your only hope for salvation is to decipher her riddles, magic and codes because at the top of the hours your soul shall burn. Can you escape? Will you escape…the HEX??
Latest Reviews
There are no reviews for this listing yet!