Tic Toc Escapes
COVID-19 alert: please check the attraction's website and/or social media before going to confirm that they are open!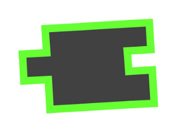 Tic Toc Escapes offers a unique team building experience where players enter a themed, immersive environment and work together to follow clues, solve puzzles and ultimately find the key to escape the room before time runs out ... tic toc...

The Green Room (60 minute race against time)
You are a music group hanging out backstage before the show. This gig was supposed to be your big break, but the door is locked and you are due on stage in 60 minutes..tic toc.

Night at the Mausoleum (a 40 minute race against time)
You enter a mausoleum in search for a powerful relic but someone or something is unwilling to part with the treasure, or you..tic toc.

Night at the mausoleum is a mission based game that sends you in to a room that is themed like a mausoleum or tomb. So, the lights are low, with some sound effects and fog effect. The game is set to feel spooky in a psychological way. There are no chainsaws or blood or living people/animals/insects in the mausoleum.

A Very Tacky Christmas ((60 minute race against time))
Oh, no! Santa is stuck in the chimney. Get on his "Nice" list and pull him out of there in time for Christmas..tic toc.

Latest Reviews
There are no reviews for this listing yet!