The Great Escape Room
COVID-19 alert: please check the attraction's website and/or social media before going to confirm that they are open!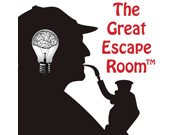 The Great Escape Room is a real-life room escape game based on the popular computer and mobile phone escape games. Escape games are the newest craze sweeping the nation – a fun, team-building, brain-busting experience! After entering a room with your team of up to 12 people*, the door is locked behind you. 60 minutes are on the clock! You must work together in order to find clues and solve puzzles that will lead you to your escape. It is part scavenger hunt and part puzzle game. Only about 20% of groups are able to meet the challenge and escape in time!

The Library (Sherlock's Study)
Put your skills of deductive reasoning to the test and see if you can be selected as an apprentice for the legendary Sherlock Holmes. Sherlock is an eclectic collector of items from around the world. Although they may seem random, in Holmes' cunning mind, they all have a purpose. It is your task to unravel the mystery set before you and join The League of the Masters of Elementary Deduction.

The Gameroom
As an apprentice to Sherlock Holmes, your help is needed to uncover a hidden object essential to his battle against the nefarious Professor Moriarty. Sherlock has created a series of deceptively clever games that must be successfully played and only the winners will go on to continue the battle.

The Infirmary
Dr. Watson and his team of elite cardiac surgeons has been locked out of the operating room. Now, it is up to you to perform the heart surgery before the patient expires!

Other Locations in New York

2 Kross Keys Drive, Suite #5
Albany, New York 12205
518-380-6995

Olympic Towers
300 Pearl St, Suite 125
Buffalo, New York 14202
716-217-2527

Escape Room available in Rochester
The Library: Price - $20 per person

Escape Room available in Albany
Library Soft Opening: Price - $10 per person

Escape Room available in Buffalo
The Library: Price - $20 per person




Latest Reviews
There are no reviews for this listing yet!