Portland Escape Rooms
COVID-19 alert: please check the attraction's website and/or social media before going to confirm that they are open!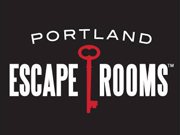 Portland Escape Rooms is a fun, interactive entertainment concept located in Portland, Oregon. A group of 2-12 participants are locked in a themed room and have 60 minutes to work together to discover hidden objects, gather clues, and solve puzzles to find the key to escape. It is a real life adventure game that is perfect for a date night or a small group of friends, family, or co-workers.


American Revolution
You and your friends have been charged with treason by the British Empire! The armed guards outside the war tent are keeping a watchful eye,while they ready the firing squad for another Boston Massacre. But there is a rescue plan in place, and you only have 60 minutes to carry it out before the redcoats return!
Room Capacity: 4-10 participants

Kidnapped!
You and your news team have been slandering local kidnapper, the Portland Puzzler! Now he's kidnapped you and set up a series of deadly puzzles and traps to see if you have the guts to think (and kill) like him. If you can prove yourself, he may just let you walk away...good luck!
(The Kidnapped! Room is meant to be a little creepy and for a portion of the experience you will be restrained and in the dark. There will be some mild fog effects.)
Room Capacity: 2-6 participants

Trapped In A Room With A Zombie
Prepare to be locked in a room with up to 11 other people and a Zombie that is chained to the wall! Hidden in the room is a key that will unlock the door to your freedom. To find the key you must locate numerous clues and solve riddles. Every five minutes the hungry Zombie's chain will be released another foot. Within an hour, the Zombie will be able to reach you. You have 60 minutes to the find clues, solve the puzzles, unlock the door and escape the room without getting infected! Are you smarter than a Zombie? Find out!
Room Capacity: 4-10 participants

Arcade
You are trapped in an arcade where the crazy arcade owner has decided to play a game with you. A bomb with a timer is set to go off in 60 minutes unless your team can solve the puzzles to get out before it explodes. You can try for the high score, but in this game you only get one life!
Room Capacity: 4-10 participants

Madame Neptune's Voodoo Curse
Have you ever wondered how close you are with the spirit world? Here at Madame Neptune's we bring your fortunes to life, be they good or evil! You and your friends will have 60 minutes to explore Madame Neptune's Cabin! Working together, navigating the spirit world and breaking the spell may be enough to escape… The Voodoo Curse!
Room Capacity: 2-6 participants

Steampunk Airship
Strap on your goggles and prepare for adventure as we transport you to another world of steam and gears! You and your team will become crew of the Undaunted, a famous air ship that stands against the devious Allied Industry Corps. Can you thwart the Corps. and fly the Undaunted to safety in this new adventure style escape experience, or will you fall from the sky?
Room Capacity: 4-10 participants
Portland Escape Rooms Halloween Promo
Latest Reviews
There are no reviews for this listing yet!