Phoenix Escape Room
COVID-19 alert: please check the attraction's website and/or social media before going to confirm that they are open!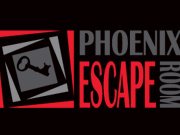 Phoenix Escape Room is a fun, challenging, immersive, interactive game experience taking place every day. While it looks like an ordinary room, it's actually a puzzle. During your adventure in our escapes, you will find yourself flexing your brain and looking in nooks and crannies you never even noticed. Find the hidden objects, figure out the clues and solve the puzzles to earn your freedom. You have a limited amount of time, so be quick! Come with your friends, family and coworkers and have a great time.

Farewell:
Your grandfather has passed away. You want to stop by one last time, so you decide to call his landlord to get permission. He welcomes you to stop by, but warns you that they will be tearing down the house at some point today. By the time you arrive, he tells you that his crew will be demolishing the building in an hour. When you enter, you find one last letter from your grandfather, giving you instructions to find a prized family heirloom, his favorite pocketwatch. Find the watch and escape the room before time runs out.
60 Minutes Recommended for 2-8 Players

Rescue:
A young girl has gone missing and a tactical response team has been formed to find her. In the hunt to track down the kidnappers your team discovers an abandoned warehouse, you must search the building and find anything that could lead to her rescue. Threats of a bomb are found and time is running out. 60 Minutes Recommended for 4-8 Adults

Crimson Storm:
Thieves of the high seas, you and your pirate crew have been captured and taken prisoner aboard the infamous Crimson Storm, a ship known for possessing the power to call down the winds and waves to crush their enemies. The source of this power, an ancient artifact known as the Crimson Heart is kept deep in the hull of the ship. Can you help your crew escape the clutches of the Storm and find the Crimson Heart before it is too late? 60 Minutes Recommended for 2-8 Players
Latest Reviews
There are no reviews for this listing yet!