Locked Manhattan
COVID-19 alert: please check the attraction's website and/or social media before going to confirm that they are open!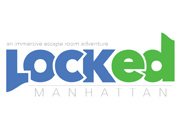 Locked Manhattan is the first escape room adventure in Manhattan, Kansas. We are focused on providing an unforgettable adventure for all of our players. Our escape rooms are intricately designed through countless hours of research and planning. We are thrilled to be able to present a challenging, fun, and unique form of entertainment to Downtown Manhattan.

An hour of fun, challenge, and unique entertainment with an unforgettable story. This 60-minute experience offers an escape into a world of the unknown without the terror of experiencing a haunted house. Does your group have what it takes to escape the room before time is up? Can you solve all of the puzzles and escape the room before time runs out? Grab your friends, bring your family, race the clock, and live the adventure at Locked Manhattan.

The Witching Hour - (4-6 Players)
You and your companions have been tasked by the town mayor to investigate a mysterious woman who lives on the outskirts of town. Not much is known about her other than townsfolk remarking on her peculiar behaviors. Recently, it seems as though a curse has struck the village. Disease and drought are suddenly rampant. People are agitated and fights are breaking out between once friendly neighbors.

The mayor suspects that this cursed chaos may be the scheming of a witch. He has contracted you to find out if the woman is in fact an evil sorceress. This can only be proven by delivering her spell book to the mayor. After spending several nights lurking in the shadows around her cabin you've noticed that every night she leaves her home promptly at 3:00am. She disappears into the forest only to return an hour later. Tonight is the night you will act. You have one hour to find this woman's spell book and escape her house for, unbeknownst to you, she has been waiting for this night perhaps with more anticipation than you have.

Pricing is as follows:
2 people: $63.00
For 3 and more persons: $21 each

Honor Among Thieves - (6-8 Players)
You and your fellow partners in crime are highly respected amongst the black market of illicit antiquity trading. You've staged countless heists in the past and your reputation has allowed you to become the most esteemed band of criminals. Impressed by your history, billionaire and collector of antiquities herself, Mia Rivenowski, has hired you to steal the Catherwood Stone. You've spent weeks preparing for this night, watching employees, creating a flawless replacement stone, and calculating every aspect of your heist. Do you have what it takes to break into the vaults of The Museum of Natural History, switch out the Catherwood Stone, and escape before the police catch you red-handed?

Pricing: Minimum 4 people: $21 each

The Dinner Party - (4-6 Players)
You and your investigative team have been ordered to check-out the primary suspect in a string of murders that have been occurring over the past few months. The first link between all of the victims lies in that they are all graduates of the local university's MBA class of 1951. A further connection is seen in the photo to the right. Found at the previous three crime scenes, a peculiar dinner party invitation with no return address sets a date for Friday, March, 6, 1964.

Through the grapevine, gossip, and with a little questionable digging, the likely location of this dinner party has been narrowed down to the home pictured on the right. Determined to investigate, but unable to procure a search warrant, you are directed to search the underground level of the suspected address while the guests dine...before the host realizes he has more guests than intended. Are you in the home of a murderer or just that of a hospitable civilian? A story will unfold before your eyes as you learn more and more about the host entertaining his guests a mere staircase away.

Pricing is as follows:
2 people: $63.00
For 3 and more persons: $21 each

Latest Reviews
There are no reviews for this listing yet!