Escape Room Tucson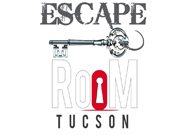 Escape Room Tucson is a real-life room escape game and physical adventure game in which people are locked in a room with other participants and have to use elements of the room to solve a series of puzzles, find clues, and escape the room within a set time limit. Participants get to become part of a plot and a cohesive unit that actively controls the story line of their session. Gone are the days when we only had the option to just go to a movie and watch the action unfold. With this, you get some skin in the game as you and your friends and co-workers become the protagonists who race against the clock to determine your own fate.

We have four escape rooms for you to choose from. Our fifth room will be coming soon.

Da Vinci:
Leonardo Da Vinci was one the greatest minds the world has ever known. He invented, painted, sculpted and did so many things that we are still trying to figure out. We can't do it alone. Many have tried and failed. Time and time again Leonardo's riddles baffle us. You and your friends have been granted a rare private viewing of Leonardo's own private quarters. Now it's up to you. You've got an hour. Can you do what many before you have tried and failed time after time?

Yin and Yang:
Yin and Yang, black and white. The fact is that opposing forces actually complement each other. Life, relationships, everything that happens is never black and white. Only together will you be able to escape this room.

Area 51:
Strange lights were sighted over Roswell, New-Mexico. Increased military activity can be seen all over. No one is really talking, you hear only rumors and it's the same thing over and over again, "They've found aliens." Your group has infiltrated "Area 51," the top secret military installation. Now that you're in, can you solve the mystery that is Area 51?

Las Vegas:
Fabulous Las Vegas. The biggest party of all. It was a great night wasn't it?!?! Shame you can't remember a thing. What the hell happened? How did we all get here? Where are we? And why is our head throbbing like it's been hit with a sledge hammer? We have to get it together. What happened last night? Security is showing up in one hour to clear us out because of all the trouble we caused last night. Does the slogan "What happens in Vegas stays in Vegas" apply to what we did last night?

Espionage (Coming Soon):
Step into the 1960's, the age of Kennedy, Apollo and the height of the cold war. The USA vs. USSR. Espionage, secret agents and nuclear war. Step into the shoes of Special Agent Michael Dyer. With your unpublicized success the people of America will sleep blissfully at night. Fail, and the unimaginable may become very real.

Some locations may have last minute updates due to changing circumstances. Please visit the
attraction's website
and/or social media before going to double-check that they are open.
Latest Reviews
There are no reviews for this listing yet!