Escape Room Lafayette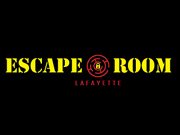 Escape Room Lafayette is an exciting & interactive entertainment experience that will have your heart pounding and your adrenaline flowing as you attempt to find clues and solve puzzles while trying to escape one of our four realistically themed rooms within a 60 minute time limit.

Bayou Nightmare - (2-6 People)
Storm clouds are moving in as nightfall quickly approaches. It's time to head back to your car. An afternoon of exploring a secluded bayou turns into a nightmare as suddenly someone grabs you from behind. Kicking and screaming, you can't stop him from dragging you into a nearby dark, dingy, run down cabin that feels as old as the swamp itself. There is a faint but distinct smell of death lingering in the air. Now that he has you securely imprisoned, your captor leaves to go hide your car but unfortunately will return in an hour. What kind of hell awaits you when he returns? Can you find a way to escape this horror before he gets back?

Spy Game - (2-6 People)
As a Non-Official Cover agent for the CIA, you've completed many successful missions across several continents. Years of experience operating behind enemy lines has prepared you for almost anything, but this mission may end a bit differently. Your only contact, a foreign operative named Ivan, is 10 minutes late for your scheduled rendezvous. When you feel the barrel of a pistol being sharply pushed into your side you realize Ivan is actually a double agent and has left you to be captured by his comrades. Now, locked in a basement cell of a decaying, nearly abandoned, secret government prison, you have one hour before a cruel and sadistic interrogator known only as "The Butcher" arrives to torture you until you break. Do you have what it takes to scratch and crawl your way to freedom before he comes knocking on the door? I hope so because your fingernails depend on it!

Fuggedaboutit - (2-6 People)
This could be big trouble, see!? Your Pops snuck off to his favorite late night spot again with all of the family's rent and food money in his pocket. Louie's is a tiny back alley mob run joint on the Lower East side of town. They cater to every vice and the place is frequented by most of the local undesirables. With a belly full of rot gut whiskey fueling his courage, it doesn't take long for a couple of in house card sharks to clean his clock in a fast moving, backroom poker game. By the time he realized he'd been cheated, the money was long gone! Now the family is counting on you to go there, locate the money and steal it back. Oh yeah, don't forget to make a fast getaway before Louie and the boys show up in an hour to open the place! If you get caught you'll be sleeping with the fishes for sure!

House Of Assassination - (2-6 People)
You've only been on the job for a few months but these are the moments you live and train for. Your career as a Secret Service Agent centers on protecting the President of the United States. A credible threat has been made by a mentally deranged individual against the President's life. You have been tracking this would-be killer since the threat was verified a couple days ago. The President has arrived in town and is on schedule to make his speech at the Fairmont Hotel in mere minutes. This guy is smart and calculating but you are determined that he will not outwit your team. You know this anonymous lunatic is close by and must be staying at a local residence, but who is he and exactly where is he staying??? Finally a tip comes in on a likely location, it's go time! You have barely an hour to find the identity of the assassin and get back to the Fairmont in time to foil his plot. Hurry!

Some locations may have last minute updates due to changing circumstances. Please visit the
attraction's website
and/or social media before going to double-check that they are open.
Latest Reviews
There are no reviews for this listing yet!