Escape Room LA
COVID-19 alert: please check the attraction's website and/or social media before going to confirm that they are open!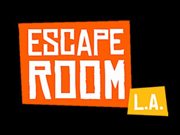 Escape Room LA games are real-life escape games where you and up to 11 others must race to beat the clock and escape from a locked room in less than one hour.

Our four available games are:

The Detective
Step back in time to a 1940s detective's office. Uncover clues to an old-school Hollywood mystery while you identify suspects and solve clever, challenging puzzles that will lead to a key and ultimately, your escape from the room! Room capacity: 12 people

The Cavern
Descend into a mysterious cavern deep under the city streets where you'll search to uncover the secrets of a lost civilization. Suddenly the cavern's air supply begins to run out and you must search for a way to escape the confined space before time runs out! Room capacity: 10 people

The Theatre
Uncover challenging clues and puzzles as you explore the backstage areas of a haunted theatre. Find a way to release the theatre's ghost before the performance begins or be trapped inside forever! Room capacity: 12 people

The Alchemist
Inside a mysterious medieval alchemists' lab, you must search for the four lost elements of earth, air, fire and water. Unite the elements and unleash the magical powers of the Philosopher's Stone before the alchemist returns! Room capacity: 10 people
Latest Reviews
There are no reviews for this listing yet!