Cipher Escape
COVID-19 alert: please check the attraction's website and/or social media before going to confirm that they are open!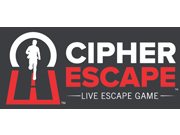 The Cipher Escape Game is a unique, inventive, and interactive experience where teams find clues and puzzles that are hidden throughout the rooms. Clues and puzzles of various types are based on the story lines and all the clues needed to solve the escape sequence are within the rooms. Using the solved clues and puzzles will enable you to ultimately escape the room within a 1 hour time limit. Players are encouraged to work together as a team to crack the puzzles and escape! The game can be played by minors in the 10 -17 age range, while being accompanied by adults.

NC Photo Hunt Escape
You have been hired by the Publisher of the NC Tourism Guidebook. Your first mission is to find the lost photos of North Carolina for the next publication. Discover hidden clues and riddles while trying to discover the mystery to the lost photos. Look out for some unexpected turns during your escape attempt. All the facts needed to escape are hidden throughout the escape room. The NC Photo Hunt Escape Room allows up to 6 participants.

Brewery Escape Room
You left home to pick up some groceries, but decided to make a quick stop at the tap room. You have 1 hour to kill before your guests start arriving to your house for dinner. Somehow you find yourself locked in the taproom. As you search the tap room for a way out, you discover entry into the brewery. While in the brewery you discover the secret award winning beer recipe which may be your ticket to escape. The Brewery Escape Room allows for 6 participants.

Geek Room Escape
Let's Geek it out in the Geek Room. The Geek Room is our largest and hardest escape experience room so far. You were being a good neighbor and taking care of your neighbors cat. All the sudden you find yourself locked in. You discover how Geeky/Techie of a neighbor you have. You will find Geek and Techie type items in this escape. This one takes at least participants to play. The Geek Escape Room allows for a maximum of 12 participants. (If you schedule with less than 4 participants and no one else joins your time slot we may contact you to move your reservation. This escape room requires a minimum of 4 participants to attempt)


Latest Reviews
There are no reviews for this listing yet!