Countdown Live Escape Games
COVID-19 alert: please check the attraction's website and/or social media before going to confirm that they are open!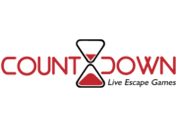 Countdown Live Escape Games are interactive entertainment experiences where you and your team are locked in a room and given the task to escape before the time runs out. Using your intellect and wits you must solve puzzles and decipher clues in order to find the key to unlock the door. There are three games to choose from so pick your adventure!

The Sherlock
"When you have eliminated the impossible, whatever remains, however improbable, must be the truth". Holmes was famous for his extra-keen powers of observation and deduction, which he used to solve perplexing crimes and mysteries. Are you able to think like Sherlock to escape the room?
Participants: up to 10 people

The Atelophobia
Meredith has captured her next group of victims, and you are one of them! Experience the world of terror like never before. "Atelophobia" is based off the film from horror director Joe Lujan. You only have 60 minutes to escape. Do you dare to play?
Participants: up to 10 people

The Chop Shop
Your car breaks down in the middle of the night and you call the Mechanic; the 24 hour tow shop. Little did you know, you called the wrong shop. You and your passengers are now a psychopathic serial killer's next victims. The Mechanic was much more than just your typical tow shop; welcome to the Chop Shop. The Mechanic has parts for sell...yours.
Age Restrictions: You must be 18 years or older to play
Participants: 4 to 8 people

Latest Reviews
There are no reviews for this listing yet!