Real Escape Room in Singapore Introduces 3 Brand New and Exciting Games
February 5, 2020 By Chris B.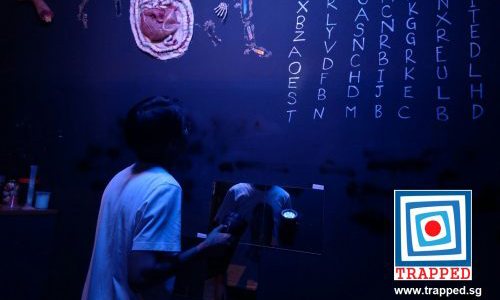 Season 3 Games are now out, which are based on the exciting themes of Purge: Escape Room, The Mental Ward and Tekong Army Bunk.
Photo by:
Trapped Real Escape Room
Real Escape Room in Singapore has recently introduced its Season 3 Games. These games are based on the exciting themes of Purge: Escape Room, The Mental Ward and Tekong Army Bunk.
The company spokesperson states, "If you've heard of escape rooms but not sure what it really is, don't worry. You're not alone." The spokesperson further adds, "Picture this, you're kidnapped and trapped in a room with your peers, and there seems to be almost no way out!"
With an escape room Singapore, anyone can become the master at solving puzzles, discovering hidden messages, and unwrapping mysteries to successfully escape some well thought and creative concept rooms. "You may need to do unconventional things to progress in the game such as crawling into a tunnel, rhythmic tapping on a surface to unlock the passageway to a secret chamber, and many more."
According to many, escape games Singapore are addictive and this holds true to quite an extent. This is mainly because these games offer exceptional recreational activities. Plus, they are also fantastic team building games.
"And if you're the sort that can't get enough of playing online mysteries solving games and not sure of what other things to do in Singapore? Take it to the next level and experience escape games in 5D," the spokesperson suggests. Trapped provides the opportunity to put people's mystery solving skills and IQ to the test in 5D experience. "We've brought the online virtual escape games to reality, but with a twist. Book with us now to enjoy a mind-blowing experience!"
In the last quarter of 2019, Trapped.SG went through many months of planning and inventing new technology to match the mysteries and puzzles of each themed game. Specially crafted to match their new themes, each puzzle is unlike any others any players have experienced before.
Marrying the perfect blend of thought provoking mysteries and testing intellect with hi-tech gadgets for an experience immersed in the themes ambiance like no other. Trapped.SG real escape room games do not require physical skills, however some of the games may require exploring hidden chambers, crawling into a tunnel and using tools to obtain an item out of reach. The themes are set to be adventurous, suspenseful and thrilling with a hint of fear factor in the ambiance.
The audience can also use promo code "rush" to get $4 off per person.
About the Company
Trapped Real Escape Room is a company based in Singapore that offers exciting escape room games as well as online renditions of the games on their website.