P&O Cruises challenges Guests with an Exclusive Dungeon Escape
September 23, 2019 By Chris B.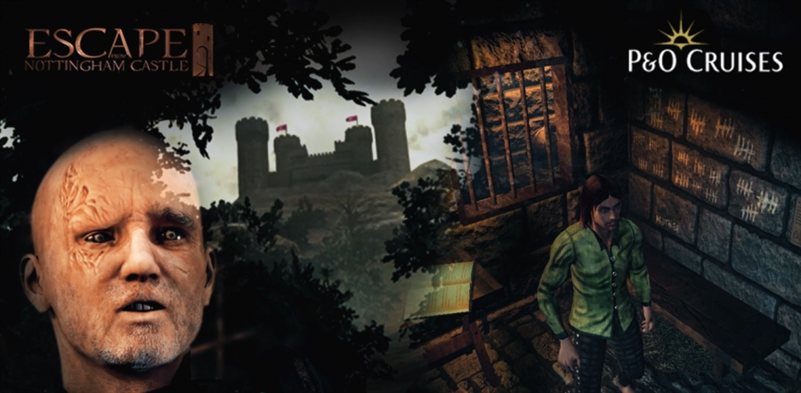 A groundbreaking new Virtual Reality Escape Room Experience revealed today will challenge guests of P&O Cruises to escape the confines of a Medieval Dungeon.
Photo by:
einpresswire.com/P&O Cruises
An Escape Room is an adventure experience where a group of players have a limited amount of time to escape from a locked room. The group of Players must use teamwork, investigative skills and puzzle-solving to find the best method of escape.
'Escape from Nottingham Castle' is exclusive to guests on P&O Cruises and debuts this week on P&O ship Ventura. The virtual reality experience will be available on other ships in the fleet as it is rolled out during the rest of this year.
The challenge is much like a physical Escape Room however one VR Player will experience a digital recreation of the locked room with a Virtual Reality headset whilst the other Real World Players will be monitoring the VR Player's actions through several cameras and will be advising them on their best course of action.
In this time-based challenge, devised and built by Brighton based Entertainment Software developers Showstorm, you are Robin Hood, the legendary outlaw of Sherwood Forest, and your beloved Maid Marion is being forced to marry King John.
In order for the 'happy day' to run smoothly, The Sheriff of Nottingham has captured Robin and locked him in the highest tower of the castle. You have 20 minutes to make your escape from the cell, crash the wedding and save Maid Marion.
"Traditional Escape Rooms require a great number of physical props and a long time to reset the room between Player groups," said Mark Bellinger, Showstorm's Managing Director. "Virtual Reality allows the Escape Room to be reset instantly, even to a brand new experience."
The high level of immersion in this experience is achieved with a combination of using premium wireless VR hardware from HTC Vive powered by Showstorm's pioneering ASI™ system.
ASI™ All Senses Immersion is Showstorm's bespoke solution that delivers a premium level of immersion in Virtual Reality using not only Sight, 3D Spatial & Ambisonic Audio but also other senses including Smell.