Perplex Gaming Creates Pop-Up Escape Room Experience for Bar Owners
July 23, 2019 By Chris B.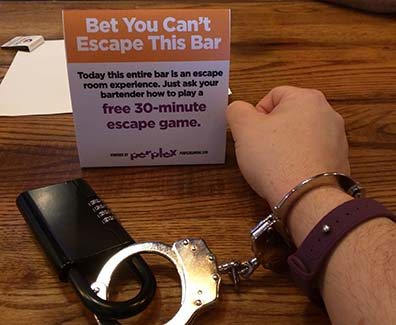 Escape This Bar: world's first, ready-to-play kit allows bar owners to tap into popular Escape Room trend.
Photo by:
prlog.org
By now, you've heard plenty about Escape Rooms, the trend that's been sweeping the nation. But have you tried escaping from your own local bar or micro-brewery? You will be soon, if Perplex Gaming LLC has anything to say about it. The company has developed the world's first escape experience kit for bars, allowing any venue to be transformed into a pop-up escape experience with ease.
"We wanted to share the thrill of escape rooms beyond a singular destination venue," said Beau Faulkner, CMO at Perplex Gaming. "So we've developed a way to leverage the trend for bar owners looking to build traffic and offer a completely novel pop-up experience that patrons just love. The clues and props can be applied in any drinking establishment in just minutes."
Perplex Gaming is confident they've pioneered the next wave in escape experiences. After rigorous beta testing, they're set to premiere at Boneshire Brew Works in April during Harrisburg, PA's Beer Week. "We've deconstructed the escape room experience," explained Paul Murray, Chief Enigmatologist. "We've made it both portable and asynchronous. Individuals or teams can now play in any bar, at any time, with a bare minimum of set up and no interruption to ordinary bar logistics. If anything, we expect bar tips to increase as participants pay for clues."
About Perplex
Perplex Gaming LLC is the creator of the popular Perplex escape room and a developer of unique puzzle experiences for multiple verticals.