'Escape Room Madness' in New York City - An Entertaining Challenge in a Fun Environment
August 3, 2017 By Chris B.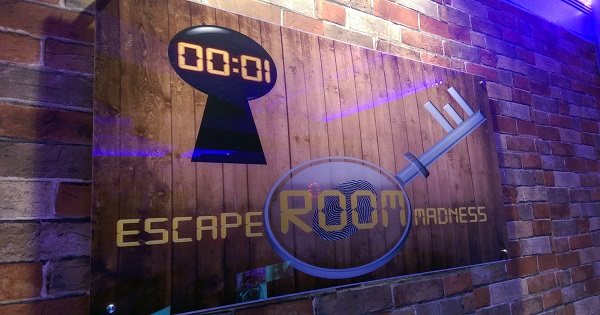 I have to be honest with you…I'm not very good at escape rooms. If I was trapped in one by myself, there's probably no way I'd ever make it out.

However, the point of escape rooms is not doing them by yourself, of course; instead, they're intended to be a collaborative effort, sometimes even with total strangers. And that's where the true genius of the escape room concept comes in- often, they bring together people of different intellects, skill levels, and levels of intuitiveness, all of them working together and bringing their individual talents to bear upon a problem, and in doing so proving themselves to be greater than the sum total of their parts.

Of course, you need a good escape room to begin with if any of that is going to work. I've been in several escape rooms in my time, and one bad one immediately pops to mind. Without naming names, the location was cramped and lacked any personality at all; nothing to immerse you in the world of intrigue and deception that they attempted to create. An escape room needs more than just fancy, mind-bending puzzles…it also needs to set the mood as well, effectively thrusting you into the role of a gumshoe struggling to solve the big case.

This is something that Manhattan, NY-based Escape Room Madness accomplishes it without breaking a sweat. Located at 38 West 32nd Street (suite 500) in New York City – easily within walking distance of Penn Station – Escape Room Madness features three very distinct rooms, and for the sake of today's review, my accomplice and I chose one entitled "The Perfect Crime" (two other rooms are called "Apocalyptic Mission" and "Nuclear Annihilation").

In contrast to the previous escape room I was talking about, the environment of Escape Room Madness' "The Perfect Crime" perfectly set the mood; it made me feel I was actually part of a classic Film Noir detective story. Set in a spacious Private Eye's office, complete with desk, bookshelf, and other such trappings, we were teamed up with a family we had never met before – a mother, son, and daughter – and our skills and wits were tested as we had to team up with these strangers in order to weed out the suspects in a complex murder mystery and find out "whodunit" with a strict one-hour time limit. If we failed to make it, the vile killer would go free, but we were determined to not let that happen!

It's funny how working out mind-bending puzzles can easily put you at ease with people you've never met before, but that's the wonderful and unique social aspect that any good escape room brings with it. After being led to our room and having the rules thoroughly explained to us, we were locked inside, and our only hope was to unearth enough clues to eventually piece together a four-digit code to unlock the door and escape. That's all I'm about to tell you about the puzzles we encountered; I certainly wouldn't want to spoil anything, but suffice it to say, that acquiring clues and solving various and varied puzzles allows each member of the group involved in the escape room two showcase their strengths as individuals. By the time things are over with, everyone will have shined in their own special way.

Aside from establishing a thick atmosphere and intelligent, complex, but ultimately fair puzzles, Escape Room Madness ups your enjoyment by providing guidance…but only exactly when and where you need it. Contestants in the room are monitored via cameras, and whoever it is that's monitoring the proceedings seems to have an almost psychic ability to realize when you're stumped, and then – and only then – will they provide clues via a TV monitor on the wall. The clues are helpful enough to send you on your way, but remain cryptic enough not to make things too easy. The people monitoring the escape room have an exceptional eye for detail; at one point we had abandoned especially difficult one puzzle – intending to come back to it later – and suddenly a clue was provided to us that enabled us to look upon that puzzle with a different set of eyes. It was then that we were then able to rectify that situation and continue on in our quest to catch the killer. I've never encountered an escape room before where the assistance rendered was so perfectly done…your intelligence is never insulted and your abilities are never underestimated.

As the timer counted down, the intensity grew, but our frustration level never did; our progress was difficult, but forward momentum was maintained due to our collaborative effort and the tough-but-fair nature of the many puzzles we were presented with. In the end, with scant minutes remaining, we actually managed to solve all of the clues and discern the code to escape the room. Yes, we eluded the clutches of the killer and brought him to justice, and in the end it was an immensely satisfying feeling.

All of that being said, I can wholeheartedly recommend Escape Room Madness as one of the best brain-teasing, role-playing, and cooperative social activities to undertake in the New York area, either with a group of friends or even perfect strangers. The Perfect Crime scenario was so enjoyable that it made me very much anticipate returning to Escape Room Madness to take on the other scenarios they offer; if Apocalyptic Mission and Nuclear Annihilation are as intelligent, intense, and well laid-out as The Perfect Crime was, it's no exaggeration to say that Escape Room Madness is the perfect way to test your wits and stump your brain while working together as a team, and have the best time possible while doing so.