Amusement Companies All-In With Escape Rooms
August 28, 2019 By Chris B.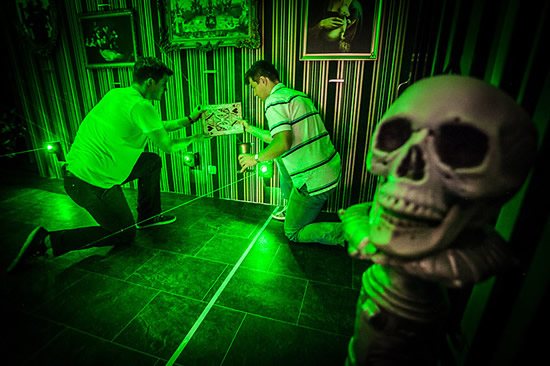 The race to develop Escape Games in Family Entertainment Centers and Amusement Parks is on while dedicated escape room companies will eventually feel the brunt.
Photo by:
einpresswire.com
The demand for escape games has grown tremendously in the past year, and as a result, escape room franchises have sprung-up as well as independent mom and pops eagerly trying to stake their claim and get a piece of this lucrative new industry. Already, though, a shift in the industry has begun occurring as family entertainment centers (FECs) and amusement parks have started integrating escape games in their facilities.
As Escape Room companies continued to take-in heaps of revenue, amusement parks, family entertainment centers, and even tourist resorts have been watching silently. That is until now! In just the past 4 months, it is estimated that over 300 family entertainment centers and regional amusement parks have opened escape rooms in their facility, with many more either in the planning stage, or at least talking about it.
The profit margins on escape rooms are very high, with low overhead and low start-up costs. However, a dedicated escape room company does still need to pay rent, staff, and advertising which could take huge chunks out of their bottom line, and is perhaps, the main reason that escape games are best suited for family entertainment centers and other amusement areas.
FECs and Amusement Parks already pay for their operating expenses from their existing business model. They already have the real estate, they have the staff, and they have the customer base. Adding an escape game costs them barely nothing except for the actual cost of the room set-up which is considerably low, as well as the creative part which is relatively cost-effective to contract with experts versus hiring an in-house person. Additionally, the FEC isn't just taking in additional revenue from their target audience, many of them now have a brand new revenue source which is produced by the adults who take their children, but have nothing to do but wait around.
Companies like the Oasis Fun Center in Shasta Lake, California and Airway Fun Center in Michigan know all too well, as they came aboard early with their escape games and have never looked back. They have both expanded with 4 or 5 additional rooms, and have turned the escape room business into a main profit center for their business. "A year ago, we started looking into escape rooms as an additional revenue source," said Marc Debello, VP of Operations for the company. "We didn't expect it to become one of our primary revenue sources so quickly."
Escape rooms are also doing very well in bowling centers. "Escape rooms attract a totally different crowd. Individuals who are willing to spend an average of $30 for a 60-minute special experience," said Eric Wigginton, director of development for Escapology, an escape room company out of Orlando who also designs escape rooms for bowling centers.
The one thing the FEC, Amusement Park, or Resort is missing, though, is the creative genius who not only designs the props, puzzles, and clues, but writes the theme and coordinates the entire escape solution. A company named Trapped Escape Rooms out of Palm Beach Gardens, Florida is one that solely creates and designs the complete escape solution, but does not compete with their clients by opening their own rooms. Having created escapes for over 100 amusement companies, they have also created widely publicized escape events with Ford Motors, General Electric, and Target, and are publishing an escape reference guide as well. "A year ago, about 80 percent of our clients were stand alone escape rooms, however family entertainment centers have really begun to step-up and have increased 5 fold in the past few months," said John Waverly, a creation specialist with Trapped Escape.
Most FEC owners that are planning on operating escape rooms are treating them as separate attractions. The average escape room size is 350 square feet, but can easily be implemented in rooms as small as 175 square feet. Revenues average between $70,000 to $90,000 per year for each escape room you open. Most centers have a minimum of two rooms which provides the customer with the ability to play again.
While this new industry has literally exploded in popularity over the past couple of year in the U.S., escape games around the world have been popular for many years, and are still growing to this day. The industry is continually evolving, but all bets are on the FECs and other amusement/tourist centers to take over as the default venue to visit an escape room.