The History of 5 Wits and What's in Store at Each Location this Halloween Season!
October 7, 2016 By Chelsea T.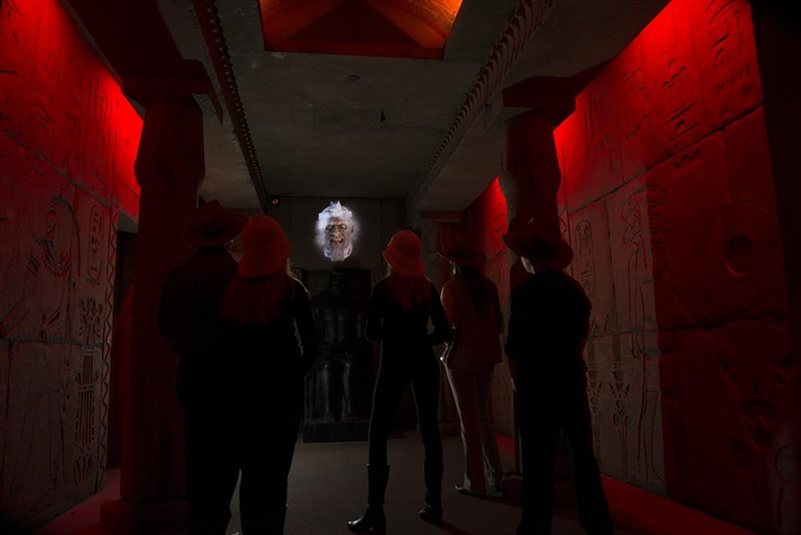 The Tomb Adventure at 5 Wits West Nyack
5 Wits is a place where visitors can enjoy endless live-action entertainment that allows each participant to get hands-on with the multiple adventures offered. The various adventures at 5 Wits immerses visitors into a realistic atmosphere, making them feel as though they are truly inside the journey.
With three locations, Foxboro, Massachusetts, Syracuse, New York and West Nyack, New York, 5 Wits has taken the Northeast by storm with their unique adventures. Including Deep Space, Drago's Castle, Espionage, Tomb, and 20,000 Leagues.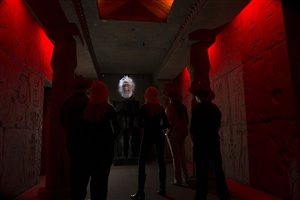 The first 5 Wits location was in Boston, Massachusetts and created by Matthew DuPlessie, who is the current CEO. Although the Boston location is no longer open, it was the site that started it all. 5 Wits began expanding to a number of locations when Patriot Place approached the store in Boston and invited them to be part of their Foxboro Mall Complex. With such a successful entertainment concept, 5 Wits saw this as an opportunity to grow and give even more visitors the chance to experience their one-of-a-kind adventures.
The West Nyack 5 Wits was opened this year in February and another location is set to open this November in Albany, New York. With each new store, adventures and customer experiences only improve. Some 5 Wits adventures are more difficult than others and takes about 30-40 minutes to complete. Each adventure requires team work, which can help a team succeed, as long as they can work together and operate well under pressure. A score is given at the end of the adventure, letting teams know how well they did - and there's always room for improvement!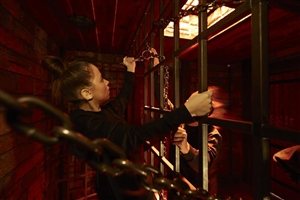 The Director of Marketing & Advertising, John Pandiscio explains the entertainment offered at 5 Wits as adventures that "are like no other entertainment." Similar to Escape Games, participants must solve clues and puzzles in order to escape each adventure, all while working together as a team. The difference is that at 5 Wits, the use of higher quality environments and special effects create a more compelling storytelling experience.
Pandiscio continued, "In Deep Space, for example, you "beam" aboard a starship and have to uncover the mystery about the missing crew. You're physically on the bridge of the ship with a 30 minute adventure ahead of you. You just can't do that anywhere else."
Be sure to keep an eye out, as 5 Wits will be introducing an all new adventure concept in the next year or two! In the meantime, check out the current Adventures & their locations below:

Espionage - Turn into a spy and break into the enemy's headquarters while doing your best to dodge the security. You'll have to hack into computers, find clues and diffuse the threat, and of course, make it out alive! Available at 5 Wits Foxboro & 5 Wits Syracuse.

20,000 Leagues - An average trip to the museum has taken quite the turn, you have suddenly come across a mystery that has been lost for over a century - The Captain Nemo's Nautilus Submarine. Repair the engines and battle with sea monsters to take on the adventure of a lifetime! Available at 5 Wits Foxboro.

Haunted 20,000 Leagues - This adventure takes a spooky turn for the Halloween Season! Enter a haunted submarine that is infested by a monstrous sea captain, but be prepared as you journey through, as you'll come in contact with the remains of the terrified crew, and the monster behind it all. Available at 5 Wits Foxboro.

Deep Space - Board an abandoned starship and battle an asteroid storm, rewire the engines, refuel the power supply and stop an evil artificial intelligence in time to save the world. Available at 5 Wits Syracuse & 5 Wits West Nyack.

Drago's Castle - Take on a medieval quest as the drawbridge to the castle has been opened, allowing the dragon to escape! The princess is in need of saving, but first you must escape the dungeon. Available at 5 Wits Syracuse & 5 Wits West Nyack.

Tomb - Journey into a 3,000 year old tomb with just a flashlight. You and your teammates end up trapped deep inside an Egyptian tomb while at an archaeological dig. You'll have to try and make it out alive, while coming face to face with the spirit of the ancient Pharaoh! Available at 5 Wits Syracuse & 5 Wits West Nyack.
Photo Gallery