59:59 Room Escape NYC
COVID-19 alert: please check the attraction's website and/or social media before going to confirm that they are open!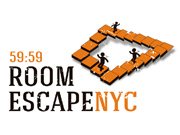 59:59 Room Escape NYC is the destination for the clever, the bold and the unconventional. We aim to create a beautiful, live "room-escape" experience for everyone. Our rooms will be elegantly designed to feature themes of classic literature.

Escape from the Hound of the Baskervilles
You are Dr. Watson trapped in a mysterious room. Unfortunately, Sherlock Holmes can't help because he is somewhere else - he's waiting for you to join him in tracking down the hound of the Baskervilles, the adventure of your lives. Escape before time runs out! (Keyword: Detective)
Max. players: 10

Escape of the Three Little Pigs
An ultra-intelligent Big Bad Wolf has trapped your team in his magical forest! And one of your teammates is locked away from the rest. Note: HE WON'T BE IDLE. He will collaborate with other team members to solve puzzles and earn his freedom. (If the team is clever, his exodus typically happens within 10 minutes) After the team is reunited, they work together to escape the forest! (Keyword: Rescue)
Max. players: 10

Escape from the Chamber of Dreams
You are trapped in a sequence of dreams of the troubled Mr. Scrooge. You will be taken to visit the dreamer's past, present and future. Get ready to solve puzzles made from optical illusions, special visual effects and hidden imagery. Your goal is to escape from this Scrooge's subconscious! (Keyword: Mysterious)

Note: This room is an enhanced version of the room originally called "Escape from the Christmas Ghosts."
Max. players: 10




Latest Reviews
There are no reviews for this listing yet!