Indy Horror Story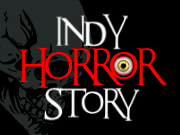 Imagine being thrust into a real-life horror film as one of the leading characters. This theatrical experience immerses you and your small, intimate group of 8 total guests in another world as you travel through this interactive horror play. You'll be fully immersed as you move from scene to scene in a disturbing tale of suspense, horror and mystery. It is an epic confrontation with a nightmare.

Indy Horror Story uses elements of live theatre, escape rooms and haunted houses to create physically, emotionally and psychologically challenging experiences. This interactive show incorporates the audience into the story as characters. There is nothing quite like Indy Horror Story in the area. Using a blend of terrifying storytelling, a musical score, detailed scenes, scents, Hollywood style makeup FX, climate control, special FX and professional actors, Indy Horror Story creates a truly immersive and interactive experience. You will converse with actors, perform tasks, look for objects and solve mysteries as you crawl, climb and claw your way through the story. Come take the plunge into terror in our 109 year old home. Each year we will be presenting a completely different twisted tale. Tickets are extremely limited! Don't miss out!
Latest Reviews
There are no reviews for this listing yet!