Haunted Hills Hospital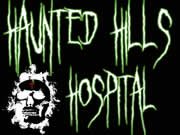 Haunted Hills Hospital holds the most psychotic patients that were too evil for a regular mental facility. The Medical staff used the patients to perform crazy experiments that were supposedly meant to cure them. However, no one was ever helped and the patients were driven further into madness before being left to rot and die. But now the patients are in control! Travel through the hell and terror that has taken over the grounds of Hills Hospital. Will you make it out or will you become the newest patient?

The patients of Hills Hospital have once again escaped from the abandoned compound and are ready to scare the hell out of you! Travel through 8,000 Sq Ft of insanity and see if you can survive or if you will become just another one of the demented freaks that inhabit Hills Hospital!

BLACKOUT:
You and your friends, A Glowstick, Total Darkness? and One Hell of a Show!
What Waits Inside Haunted Hills Hospital?
Latest Reviews
There are no reviews for this listing yet!