Enter the Room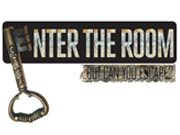 From the moment you enter the waiting room, to the last seconds on the clock, you will be immersed in an experience like no other. Enter the Room is focused on your journey, rather than your destination, thus providing a service that leads to personal growth through teamwork and communication in an abstract, experiential learning environment. Although your goal is to escape the room, the underlying theme is designed to encourage you to think outside of the box and most of all have fun while inside.

The Medieval Library
The Castle includes a Medieval Library and small dungeon where Oliver Rountree's bones remain to this day. He was locked up and shackled for doing shady business occupationally. Can you figure out what it was he did and escape the Library before the sands of time seal your fate? Or will the hourglass run down leaving you locked in the dungeon with Oliver for eternity?

Christmas at Enter the Room
We are working up some really fun ideas for our new room and we promise not to disappoint! Coming soon….

Enter the Room: Manitou Springs, CO
Latest Reviews
There are no reviews for this listing yet!