ClueMasters Fort Smith Escape Room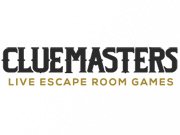 ClueMasters offers a new kind of entertainment for Fort Smith, where the right combination of wits and teamwork win the game. Escape rooms are a thrilling and challenging way to spend time with friends or family, and a great option for Corporate team building activities. We're excited to bring this new experience to downtown Fort Smith! Can you escape in 60 minutes?

You can visit one room or multiple rooms. Large groups may want to divide and conquer multiple rooms, or return several times to try them all. If you get stumped in a room, you can visit again and again to improve your time. ClueMasters is your home for live-action adventure!

Rooms:

Murder in the Manor:
You have been separated from your group while touring Avington Manor. Locked in the very room Sophia Blake was found murdered years ago this very night. You have an hour to solve her murder and escape the room or the same fate may befall you!

Clue Pig Sooie:
Your friend Mike bought 4 tickets for the Razorback game. However, when you arrive at Mike's apartment to leave, he is nowhere to be found. You have an hour to work through the puzzles and obstacles in Mike's living room so you can find the tickets and make it to the big game!

The Dark Hall
You and your research team has discovered a secret room in the Smithsonian Air & Space Museum, unfortunately after the last team member entered the chamber the door locked behind you. Can you find the hidden ancient artifact and the key to your escape before you are driven to madness in The Dark Hall?
Latest Reviews
There are no reviews for this listing yet!