Escape The Room Game Long Island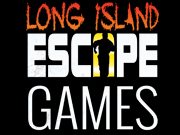 Before you and your friends head to a movie or bar – book an escape game and see if your group can escape one of our challenging and incredibly fun escape rooms!

Escape Room Game - Takenn:
"I have a very particular set of skills." This threat, delivered by Liam Neeson's character in the movie Taken, has perhaps become his trademark line, seeping its way into the collective pop-culture consciousness. It's a good thing, too, because it's one people should remember and embody at Escape Game LI.

Takenn, finds teams abducted by a ruthless crew of kidnappers. Teams have one hour to use their skills—piecing together clues, solving puzzles, cracking codes—to escape before their captors return.

The game was designed to be suitable for all sorts of groups, including families, friends, and corporate teams.

The Bank Heist:
Now you will be the bad guys ! You have had a long, successful career as a professional bank thief, but today you will be facing your greatest challenge yet, as you will be attempting a heist at the most important bank in town. Your team has gone ahead of you and left clues and hints. Will you able to break into the vault, crack the codes and escape before the police arrive?!

Pokemon Takenn Live:
It looks like Team Rocket snatched up all of your team's hard earned Pokemon and hid them away in their secret lair. Luckily, you were tipped off on where their hideout is. Rescue all of the Pokemon before Team Rocket gets back. Don't get caught!

Latest Reviews
Been to a few of these places. This facility has the highest quality games and friendliest game hosts.

Posted Apr 2017